Welcome to IGNITE Worldwide's Teacher Training!
1) Watch our teacher training video.
Please be sure to submit the form below to certify with IGNITE that you have been trained. 
Please feel free to also refer to our written training materials after watching the video.
2) Submit the form to certify that you have been trained.
If you have not yet subscribed to our teacher mailing list, it is important that you do so here.
Thank you!
Teacher Training
IGNITE Panels
IGNITE Panels are in-school events where IGNITE will recruit a panel of professional women in STEM careers to come talk to female students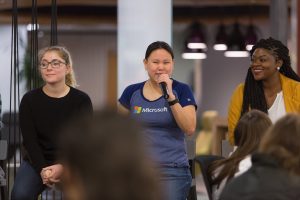 at your school!
For the first half of the panel, each speaker will take 3-5 minutes to share their personal journey in STEM. The second half of the panel is a Q&A, during which the girls will ask their questions to the speakers. 
To host a panel at your school, simply complete this form. We will need the name and address of your school, your contact information, and the date and time of the panel. 
Panel Details:
The average IGNITE panel will have 3-6 speakers and

must be 90 minutes

in length. 

You must give us

at least

2 weeks lead time to find volunteers (more than 2 weeks is ideal).

After IGNITE recruits volunteers to speak at your school, we will send you their contact information.

You will need to email the volunteers and introduce yourself.

IGNITE will send you a template email to get started.

We highly suggest providing food to encourage girls to attend!

Please reserve 10 minutes at the end of the panel for all girls to complete the Student Event Survey.

Please be sure to host an IGNITE panel at your school in advance of attending any IGNITE Field Trips.
Panel Resources:
Please review the following items and have them printed & ready for the day of the panel:
IGNITE Field Trips
IGNITE Field Trips
IGNITE partners with with an incredible community of local companies who are ready to host a group of girls and provide them with an unforgettable experience! 
A typical field trip includes an introduction to the company and building tour, a STEM-related activity, and a panel presentation with women at the company. Most trips will begin promptly at 10am and end at 1-2pm. 
After signing up for our mailing list, you will receive new field trip opportunities to your inbox. You can also view & register for open field trips at any time on our website: (Washington | California).
Pay close attention to the number of girls you sign up to bring - we expect all of these spots to be filled by your group. If this is ever an issue, please contact us immediately so we can find a solution. Since there are usually a few girls who do not show up, please expect to fill all spots by using a waitlist.
Field Trip Details:
An IGNITE Panel should be held 1-2 weeks in advance of attending your first field trip of the school year. This is important to ensure girls know why they are attending the field trip, and gives you a chance to pass out permission slips!

A list of student & chaperone names will need to be provided 4+ days prior to most field trips. The companies we partner with require this for security reasons.

You will need to arrange for transportation and subs through your school. IGNITE cannot arrange this.

Lunch will always be provided by the company you are visiting. IGNITE will ask that you send any dietary restrictions in advance of the trip. 

You will be provided with the cell number of a company volunteer in case you encounter any issues the morning of the event. We will also ask for your cell number upon registration to pass along to the company.

We will send you detailed arrival instructions, including the drop-off address, where to go once you arrive, and where you will be greeted by volunteers. 
Field Trip Resources:
Please send IGNITE's

Media Consent and Release Form

home with students along with their permission slips to be signed by parents before the field trip.
You will need to print the following items and bring them on your field trip:
IGNITE Field Trip Partners
IGNITE Event Follow Up
After every IGNITE event, we ask you to send us three follow-up items: an Event Report, Student Event Surveys, and event photos. All of these components must be submitted within 1-2 weeks following the event. 
The

Event Report

is a 2-3 plus paragraph write-up of the event. It should include a summary of the event, takeaways and reactions from the students, and thanks to the volunteers/hosts.

You can view event report templates and examples for

Panels

and

Field Trips

to help get you started. 

Please remember to take 5+ non-blurry

Photos

during the event. Group shots are great! Send these to IGNITE as email attachments.

Scan and email all filled out

Student Event Surveys.
These items allow IGNITE to provide meaningful feedback to volunteers, improve the experience for students, and maintain funding for our programs. The event report, photos, and student feedback will go on IGNITE's website as a "thank you" to be shared with volunteers and hosting companies. 
Cancellations
IMPORTANT - If for any reason you think you may need to cancel a Panel or Field Trip, please contact us right away.
For field trips, please contact IGNITE directly. Do not contact the company.
We understand this can happen for many reasons out of your control, and our partner companies and volunteers are understanding with advance notice. 
If the event is cancelled on short notice, it can damage our relationship with companies and volunteers, making them less likely to participate in the future. If something comes up at any point, please let us know and we will do our best to find a solution.
IGNITE Events: Annual Planning
IGNITE is most effective when all components of the program are utilized. We suggest having at least two in-school panels/workshops during the school year, one at the beginning of the school year, and one before class registration. It is important to have an in-school panel/workshop before attending your first field trip. 
We also suggest registering your students for a field trip that takes place shortly after your in-school panel or workshop. This way, you can incentivize girls to attend by giving them a spot on the field trip. Please bring the field trip permission forms to pass out to girls who attend the in-school event.
Since 1998, people like you have been changing girls' lives and inspiring them to pursue STEM. Thank you for your dedication to this mission, and we look forward to working with you!